Posted in
Regular Posts
and tagged with
blessings
,
family
,
siblings
on 04/04/2013 02:15 pm by admin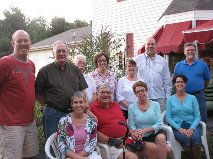 Behold, children are a heritage from the LORD, the fruit of the womb a reward. Psalm 127:3
I feel I have done my own children a disservice. There are two of them. By that, I mean there are "only" two of them. I regret not giving them more siblings. Though the "fruit of the womb" are rewards to the parents, they are also a blessing to each other.
I just spent eight days with my five siblings as we went through the last days of life with one of them. My brother-in-law brought my sister home from the hospital to give her the grace of dying at home. Five siblings were there to help, to cook, to keep her company, to run errands so she wouldn't be left alone, to reminisce, to sing, to pray, and to comfort her in her illness, and each other in our pain.
My parents did us a huge favor by giving us so many for support, for cheer, for commiseration, and for love. The favor continues because we actually do this for each other. I find it very sad that there are many families in this nation who have the siblings but nothing has come of the large family but more people to fight with.
This has been on my mind since a few weeks ago when I was visiting my oldest sister in her home. A friend of hers came for coffee. We were talking about families and the struggles that come with those relationships. My sister's friend looked at me and said, "You know it's not normal, the way you all get along, it's not how normal families get along." (Or something close to that.)
She and a sister-in-law were at the table giving their family histories of strife and discord. In comparison, we are much closer. I have been wondering why that is, why are we so different as a family?
I think it helped that both of our parents came from big families (six and seven siblings). My mother punished us as much for tattling as she did for a wrong committed. Her attitude was that if there was no blood we should work it out for ourselves. We learned to deal with each other, no referee. We fought like all other sibling groups – we just had to forgive and let it go without the intervention of an adult telling us how it had to be done.
The other thing that has blessed our family is that every sibling married someone who respected our family relationships. Our sisters-in-laws are sisters and our brother-in-laws are brothers. They have overlooked our shortcomings, have not brought on strife, but have embraced the closeness. This is not always the case. Our family gatherings are large and sometimes (usually) loud, the next generation is smaller but just as close, the cousins have grown up together on major holidays, many of them attended the same schools. As they have had children it gets more complicated, but there is no pressure to always be there, we're happy if you are with family, even when it isn't ours.
I mourn the loss of the big family. I really don't believe we can overpopulate the earth if we have more kids. I don't believe that God would give us children and then not provide a way to make a living to support and feed them. I don't believe that more children means the demise of the mother's opportunity to "fulfill her dreams" or be herself.
I, for one, am grateful for a large family to help me through the hard stuff and rejoice with me in the good. As for my own kids, it's too late for me to give them more siblings, but it's not too late for them to give their own children more — and more grandchildren for me!
Please follow and like us: