Posted in
Regular Posts
and tagged with
children
,
Christ
,
Christmas
,
Colossians 1:28
,
faiithfulness
,
parents
,
proclaim
on 12/06/2017 12:58 pm by admin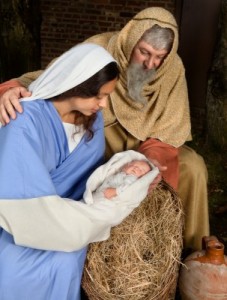 Him we proclaim, warning everyone and teaching everyone with all wisdom, that we may present everyone mature in Christ. Colossians 1:28
"Preach the gospel, if necessary, use words." I don't love the quote but there is truth in the thinking that we can't share the gospel and not live faithfully. Our Christian living may lead us to the opportunity to "proclaim" Christ with words. It seems that there is even more opportunity for this kind of "witness" as we prepare for Christmas.
Reading Colossians 1:28 (above) gives us reason to stop and consider how we proclaim the name of Christ in the way we celebrate Christmas. Do our Christmas celebrations, attitudes, and gifts point people to or away from Christ Himself? Concentrating only on the people we encounter at Christmas, consider:
Our own children: What child needs a God to provide for them if they do not understand that He is their greatest provider? How big is that pile of gifts? Are our kids attracted to the Christ of our Christmas – or to our wallets?
Those we work and serve with: What are the words we use at work to talk about Christmas? What about our actions? Are our worldly complaints about how taxing the season is or the availability of the current toy craze for our children or the lack of a "Christmas bonus" from our stingy bosses, sounding like the rest of the world? Does anyone see the Light of Christ, or the joy of the Spirit, in us? If we don't show them we have something that is different – and better – than life without Him – why would they be attracted to our Christ?
That poor seasonal store clerk who only knows a little more about what the store has than we do: If you and I angrily raise our voices at her because she isn't doing it fast enough, or doesn't have what we want, and then give her a half-hearted "Merry Christmas" – thereby proving our Christianity because we did not say "Happy Holidays" – is she attracted to the Christ of our Christmas?
Husbands and/or parents: It is telling that Matthew 5:15 says, "Nor do people light a lamp and put it under a basket, but on a stand, and it gives light to all in the house." Our lights are to shine in our own homes. At Christmas it seems like we get involved in so many things that home is the last place that sees our light. Are our husbands or close family members attracted to the Christ of our Christmas – or can they not wait for the whole Christmas season to be over so they can have you back?
We proclaim Christ in our actions. Sometimes we have to use words. The two need to be saying the same thing.
How will you and I proclaim the Name of Christ in our own homes as well as in the world in which we live?
Please follow and like us: